A system of connected vessels
According to official information provided by the International Monetary Fund (IMF) on 14 November last year, the Fund is working intensively together with the Government of Hungary on the development of a package of technical and financial assistance for the economy of the country. The Government officially admitted that the expected help from the IMF is their last resort. The next day BUX, the Hungarian stock exchange index, fell by 7.7%, and the forint/euro exchange rate dropped to 5.4:1 reaching the lowest level in history.
"All this is driven by the international financial crisis" – say those less knowledgeable in the economic situation of Hungary and the region. Others, those who are aware of differences in the level of economic development and structure of Central Eastern Europe (CEE) economies, point out the fact that for years the Hungarian economy has been the weakest in Europe in terms of its foundations. Many years of negligent monetary and fiscal policy have led to one of the highest budgetary deficits among countries of our continent: currently it amounts to 5.5% of the Gross Domestic Product (which is, however, a better result than in previous years). Under such circumstances no wonder the Hungarian forint is losing value in relation to the euro and that the capital market is very weak, which in the situation of overall hunger for money additionally contributes to poor economic results.
Even in the absence of the world financial crisis, Hungary would be experiencing a very tough time: with an approximately 6% budgetary deficit, the trade deficit is at the level of 5% and the total external national debt has reached 122% of GDP. The Government is facing a great challenge to raise capital for funding the deficit, which is even more difficult as it is already considerably indebted: it is estimated that approximately 65% of GDP is allocated to internal domestic debt. Governmental expenditure accounts for almost 50% of the GDP, which means that the domestic debt is stretched to its limits – unless the Government decides to raise taxes, which would push the economy into the abyss of recession.
Besides, the involvement of the IMF in short term problems additionally indicates a regrettable lack of systemic solutions for the CEE region en-bloc, in spite of the fact that as a group of neighboring countries in recent years it was considered the driving core of the Old Continent. It is worth noting that while the IMF has available resources to provide assistance (obviously these are credit facilities), their funds may shrink in the near future, as Iceland, Serbia and Ukraine have started negotiations regarding similar financial help. However, it is a long way from the need to the receive funding and a positive IMF standpoint to actual disbursement, since IMF rules restrictively require that the country reduce its budgetary deficit, which in the case of Hungary represents an 11% reduction in public spending in a situation where the distribution of political power does not guarantee the parliament will support such remedial, but very unpopular, measures. Moreover, all politicians very well remember the social unrest in 2006.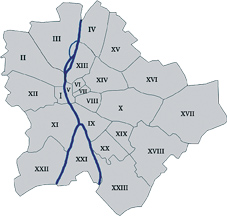 Districts of Budapest. Source: Wikipedia

Regional consequences of the financial crisis - commentary
None of the CEE countries has a developed financial market of derivatives linked to the investment property market, such as secondary mortgage market. Ironically enough, such underdevelopment has mitigated the impetus
in CEE of the shock wave following the explosion of the credit crunch on the American market. Would the balance be positive in
a reverse situation? We are never going to find that out. Hungary follows the regional pattern: despite structural problems, Hungarian banks are not facing threats similar to the dramatic situation of Icelandic banks; they did not offer carry trade* financing, the main driving force for the growth of Icelandic banking sector, however, Hungary was a destination where such funds were invested. Again – like other countries of the region.
Austrian banks (Raiffeisen in particular) are heavily involved in CEE, the Balkans and Russia. The dynamic development of products and the whole mortgage market in emerging countries reached its apogee in 2002-2003, when the CEE region overtook even the group of East Asia, being the hottest investment destination of international capital. Due to their geographical location and several years of relevant experience, Austrian banks acted – like Icelandic banks for Japanese yen in relation to the British market – as a gatekeeper for Swiss franks in relation to CEE.
According to Stephen Roach from Morgan Stanley – given appropriate macroeconomic environment the carry trade temptation is so strong it generates artificial demand for assets. Under such circumstances, normal appreciation of assets might be boosted to unbelievable proportions a speculative bubble. As a matter of fact, today we already know that Q3 2008 was the last period of consolidation of indices and the last moment when profits from carry trade transactions could be realized in a safe manner.
In 2003-2008, the Hungarian real estate market received a huge injection of investments denominated in Swiss franks (main currency used for carry in CEE), mostly arranged by Austrian banks who have a vast experience in using that currency. Since 2006 almost 80% of all mortgages in Hungary were made just in Swiss franks. At the end of 2007 as much as 40% of all mortgage and consumption loans were denominated in other currencies than forint and euro – mainly in Swiss franks.
Nowadays, the three strongest foreign banks operating in Hungary – Austrian Raiffeisen Bank and Volksbank and German Bayerische Landesbank – ceased lending in Swiss franks and US dollars. This led to a dramatic situation of individual borrowers who found themselves in a trap of exchange rates fluctuations between the Swiss frank loan taken in the period of 2003 - mid 2008 and approximately 8% denomination of that currency and almost 13% annual inflation on top of that. The face value of the loan is increasing, while borrower's ability to pay off is decreasing.
Is therefore the Hungarian economy facing a financial catastrophe? Unfortunately, macroeconomists forecast it is not unlikely that already received funding together with expected IMF assistance in medium-term may wind up the spiral of crisis, contributing to further reduction of forint worth.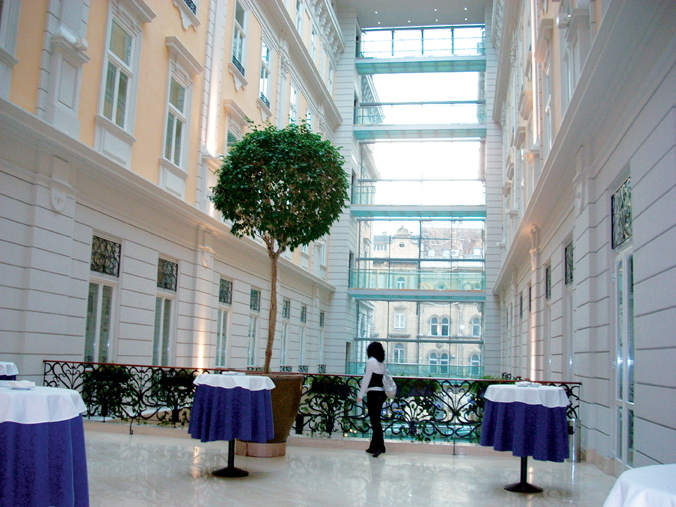 Corynthian Hotel

Residential properties
Hungary is clearly undergoing a crisis on the residential development market similar in its structure to problems other CEE countries are experiencing. However, while its capital city is similar in size to Warsaw – and please bear in mind that Hungary (also like Romania and Bulgaria) does not have a sizeable group of 2nd and 3rd tier cities – per sqm price of a unit is at a relatively reasonable level.
Especially interesting for a prospective buyer with a financial liquidity is the choice and prices of units on the secondary market in the following districts: V (the city center), IX, XIII, VI. Please note I do not mean a bargain price for a typical Hungarian resident, but rather for a potential investor, in particular one that relatively frequently travels to Budapest. Regularly renting units for a couple of days during my business trips, I confirm that in Budapest you can take the opportunity to select a prime location and indeed get real value for money when purchasing a unit.
For instance, three rooms in the XIII district, 76 sqm (of useable area) built in 2006, overlooking the Danube, with a terrace, garage and kitchen equipment is listed at 1,600 euro per sqm. Another example is a three-room unit in pre-war building in the VI district, 85 sqm spread over two floors, priced at 1850 euro per sqm. Admittedly, the unit needs major refurbishing, however it is 3.5 m high, has two bathrooms, is in a beautiful historical tenement house in a great location, with an inner yard and atrium similar to that on the pictures below.
In the context of residential real estate it is worth to add that Hungary is the only country among new UE members, where in the capital city there is no housing gap compared to the average of former UE members, just the opposite – the housing absorption is above the average for those countries. Indicatively, the gap in Warsaw is assessed at approximately 60,000 units, in Bucharest at 130,000, in Sofia at 80,000 and in Prague at 2,000. It should be strongly stressed the above numbers pertain to the estimated housing need and do not represent the real demand.

A glimpse on infrastructure and commercial property
A popular song says 'the show must go on' – paraphrasing 'the development must go on'. Undeniably, if forced to escape – run ahead. In July 2008, the European Bank for Reconstruction and Development provided funding in the amount of 75 million euro for an international consortium Mecsek Autopalya Koncesszios ZRt (MAK) to be used for construction of a network of motorways by a commercial operator. The MAK gathered under its name the strengths and expertise of Strabag AG, Bouygues Travaux Publics SA, Colas SA, John Laing Infrastructure Limited and Intertoll Europe. The companies are to design, construct, provide financing (!), put into use and service 48 km of M6 motorway between Szekszard and Boly as well as 30 km between Boly and Pecs. Signing the contract for 30 years, MAK became the third private road operator in Hungary. It declared that both parts of the project, worth approximately 966 million euro, would be completed within 28 months. Those two sections of strategic importance will connect Budapest with the Croatian border and will thus significantly facilitate the road traffic between the Balkans and Central Europe.
Is it a good sign? Certainly yes – provided it is implemented in compliance with initial assumptions.
According to one of the leading world real estate advisory networks, there is a room for future growth on the Hungarian market. They believe that retail properties from premium and discount segments currently enjoy the most stable position on the market. Owners of new projects, e.g. Solaris and Neo Center say they are satisfied with the pace of signing pre-lease contracts. Construction is supposed to get started 3-4 weeks after a certain pre-lease level has been achieved, in case of Solaris it is approximately 50%. Renata Kalużna** mentions examples of unfortunate projects unlikely to see a quick happy end – projects whose value was overestimated, land/properties purchased at unreasonable prices, with overly assessed demand or potential for attracting tenants. Such investments, located mainly in the center of Budapest, certainly will not be completed by people who originally conceived the idea and started the project. As a rule, they are visionary projects, able to breakeven and generate income, although not sooner than 6-8 years after completion – can initial investors afford to wait for such a long period? When will they be completed – we will be watching.
The Hungarian economy is too confined and too strongly linked with the external market so to predict its prosperity in the current worldwide situation. Undoubtedly, like everybody around it should get prepared to stagnation, impacting not merely the financial and real estate markets, but also other sectors – says Kałużna.
A German developer, currently involved in a couple of multifamily projects in Munich as well as office and logistic projects in the vicinity of Budapest, on friendly terms sharing his thoughts with us, expressed an opposite opinion. He argues that at present the climate for starting and completing a project bears a resemblance to thickening custard when it is boiled too long: appetite is still there, smell and taste are still as described on the package, however its consistency becomes difficult to swallow. Certain functions offered by a project may still be in demand on the market – however the group of users who can afford leasing/buying it has shrunk. It will not take shorter than about 24 months to see a market response.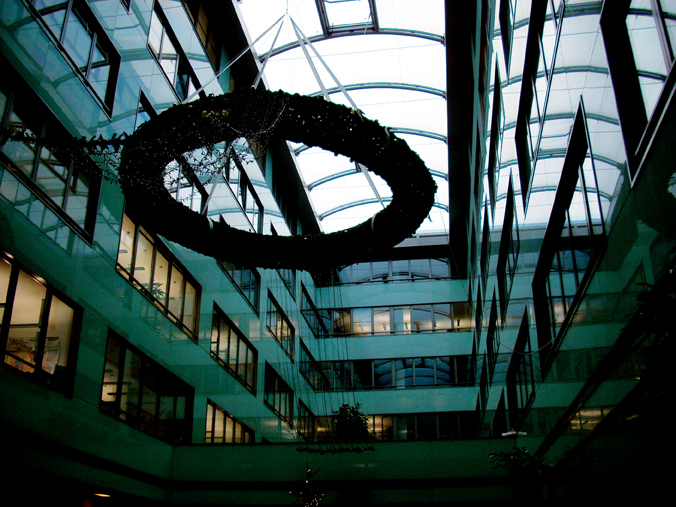 King Sturge headquarters

Atrium – Hungarian national heritage
In this generally very difficult and complex economic situation there is something special in Hungary – in great majority in Budapest and larger cities – that is not declining in value nor affected by inflation, crisis and short breath. What I mean is an architectural style of houses in older districts of the city; and what is even more interesting – not only old houses.
Atrium is what I have in mind. This architectural solution invented by Etruscans, contemporarily defined as "inner yard of houses (atrium houses), as well as large open space with a glazed roof in office and commercial buildings".
Numerous Hungarian atria fascinate with unique esthetics and their own national and historic style even in modern hotels and office buildings. One of their features is a praiseworthy consequence that cannot be found, for instance, in the capital of Hungarian neighbors – Bucharest. Yet old Budapest has elements of its own distinctive architecture, but is not transferred in any form to new construction to give modern and quality buildings a touch of local, exclusive style. It would allow to reproduce quarters of the city in conformity with their original historical character, esthetics, function and most of all – the original plan. Likewise as we see it happen in Budapest.
In Warsaw we can admire at Plac Trzech Krzyży the remarkable Dom Dochodowy renovated in a similar style and Polonia Hotel in the very center of the city.
Please take the opportunity and visit similar several similar properties in Budapest.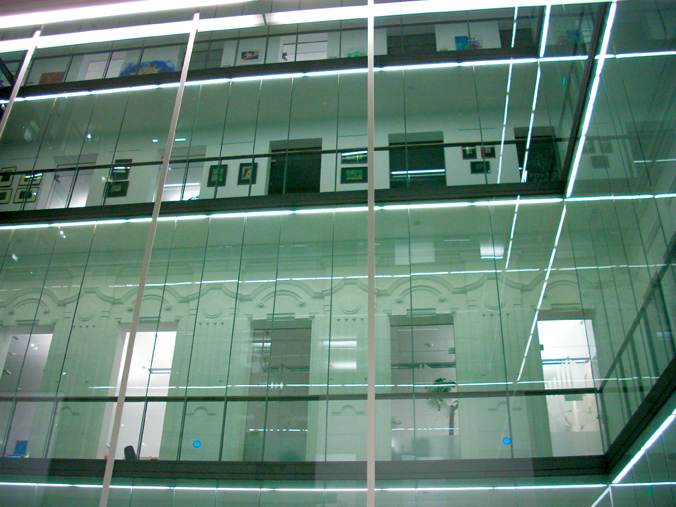 "Fashion Street" Building. Photographs by Renata Kałużna & Joanna Iwanowska
*Carry trade: a use of differences in interest rates; an investor borrows in a certain currency with a relatively low interest rate and uses the funds to purchase a different currency yielding
a higher interest rate. A trader using this strategy attempts to capture the difference between the rates. Source: Deutsche Bank PBC S.A.
**Renata Kałużna, Executive Director at SC Consulting, leads facility management projects and training courses for the real estate industry in Poland, Romania, the Czech Republic and Hungary.